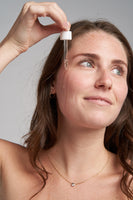 facial oils are feared with the misconception they'll contribute to 'oily skin'. on the contrary, facial oils control sebum production by creating a protective shield that deflects pH-disrupting pollutants.
beyond that, the protective layer a face oil provides will prevent blemish-causing bacteria from wiggling into pores.
a good oil will penetrate deep beneath the surface to speed wound healing, lift discoloration, even skin tone, prevent fine lines, plump and protect. think of it as your personal skin army, in a bottle.
best selling tea oil
follow R92 on ig for skin education & wellness
blog about it why don't you.
i've taken what I've learned over the years and condensed it to the blog tab at the top of this page. check it out for all things skin health and internal wellness.
follow me on the gram to stay in the know.  @katherinemenna